OpenSRP in Malawi: empowering facility health workers for better health outcomes
The Malawi eRegister Project is a new initiative to digitize the Bilira Health Center in Ntcheu district–Malawi to improve health outcomes through optimization and improvement of health service delivery. Ona helped to customize, develop, and launch the OpenSRP solution, which aims to streamline workflows by digitally tracking clients and their current health status. Health workers are using Android tablets to analyze and capture information while providing health care services, thereby increasing accuracy and reducing the burden of regular reporting.
Solving familiar global health challenges
Bilira Health Center serves a catchment area that spans over 40 villages. The facility has approximately 26 staff providing health services within the center and in village outreach clinics. With a large population to serve and few health workers, the facility faced several challenges:
Since health services were documented with paper ledgers, timely planning, monitoring, and follow up was difficult, if not impossible for the overburdened system. Clients who needed strict adherence to treatment fell through the cracks and were left to monitor their own care.
The manual process of data aggregation was cumbersome and time consuming, which led to inaccurate data. Although Malawi uses DHIS2 (District Health Information System) to aggregate data nationally, data at the community level is recorded on paper, physically transported to the district hospital, and manually recorded into DHIS2.
Healthcare workers were without accessible information at the point of care. Using paper to record patient data meant the records for one person were scattered across several notebooks and ordered by entry date (not name or ID). Getting a complete medical understanding to make informed decisions was impractical.
Our Solution
We worked with the Malawi Ministry of Health and Population, GIZ Malawi, HISP Malawi, and Jembi Health Systems to design and build a solution with the five primary health departments in the facility:
Antenatal Care (ANC): covers treatment and prevention of health problems during pregnancy by tracking regular check-ups.
Maternity: tracks childbirth and birth outcomes.
Child Health: covers vaccinations, growth monitoring, adverse effects, and recurring services for children under 5 years of age.
Postnatal Care (PNC): tracks postpartum women and newborn infant status.
Outpatient Department (OPD): covers general outpatient services including registering visiting clients and tracking their tests, diagnosis, treatment, and outcomes.
Since OpenSRP includes content based on World Health Organization (WHO) guidelines, our technical work for the Malawi eRegister Project primarily involved localizing health rules and business logic. Immunization schedules were taken from the Malawi Extended Programme of Immunization, Maternity/PNC logic was guided by the Malawi Reproductive Health Department, and ANC guidelines were based on the WHO 2016 ANC Guidelines and Malawi Reproductive Health Department.


Our partners in Malawi: Malawi Ministry of Health and Population, GIZ Malawi, HISP Malawi, and Jembi Health Systems.
Improving planning and follow up
To improve facility ability to service planning and follow up, the Malawi eRegister provides several new tools. First, by automating future calendars for services such as immunization schedules and ANC visits, clients are identified, prioritized, and due dates assigned. Also, because this information is stored in the cloud and filterable, it is easy to target specific high risk individuals or villages for services while in outreach clinics.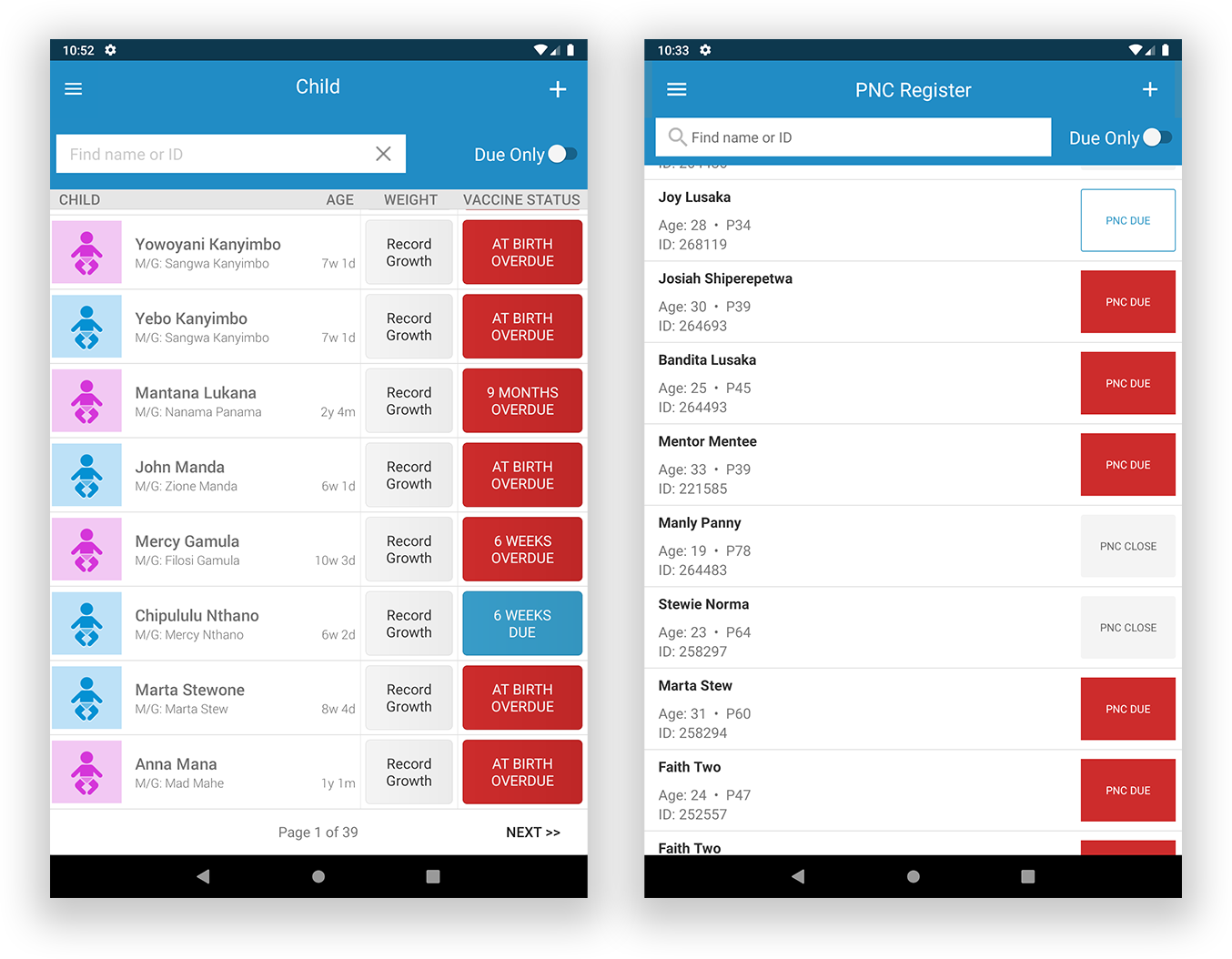 Patients in the app can be sorted by services due to them.
Streamlining data aggregation
With information recorded digitally, health workers have immediate access to performance and outcome reports. Previously, workers had to comb through service ledgers to create daily tallies, which were aggregated again at the end of the month. Malawi eRegister provides two benefits with automated data aggregation: first, health workers have more time to provide services rather than do administrative paperwork, and second, data can be used in real-time for decision making.
Making information accessible at the point of care
Beyond storing health records in the cloud and putting it into the palms of any health worker treating clients, the Malawi eRegister app also cross-references patient profile, symptoms, and examination results with health rules and unique population characteristics. This enables the app to inform health workers of potentially necessary risks and interventions at the point of care. Hence, they are able to provide more informed care to the client on an individual basis.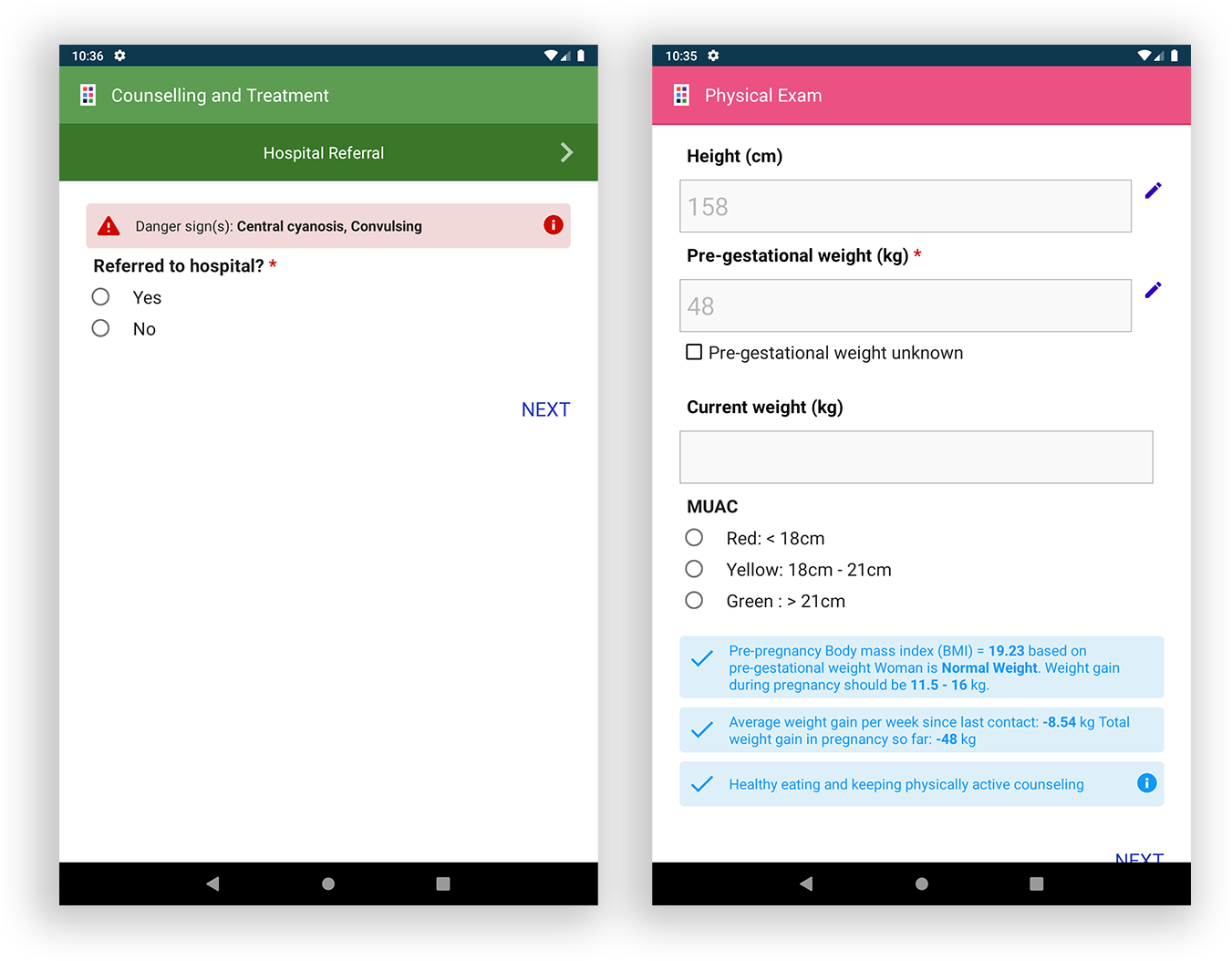 Forms in the Malawi eRegister offer helpful tips and automatic calculations.
Building on promising early results
The Malawi eRegister was implemented in a phased manner at Bilira Health Center, with the child health department adopting the app almost 6 months ago and the ANC department beginning a few weeks ago. As of September 2020, the health facility has registered 2,900 children and recorded 22,000 immunizations. Additionally, 132 pregnant women have been registered and 121 ANC visits recorded, which represents a great start for baseline data. As more data comes in, we will be working with the Ministry of Health and Population and GIZ Malawi to monitor health outcomes and provide updates on the impact of the Malawi eRegister on facility health services.