Saving Lives and Livelihoods through Multi-Agency Data Systems
Relief Made Visible · Cyclone Idai Rapid Response Platforms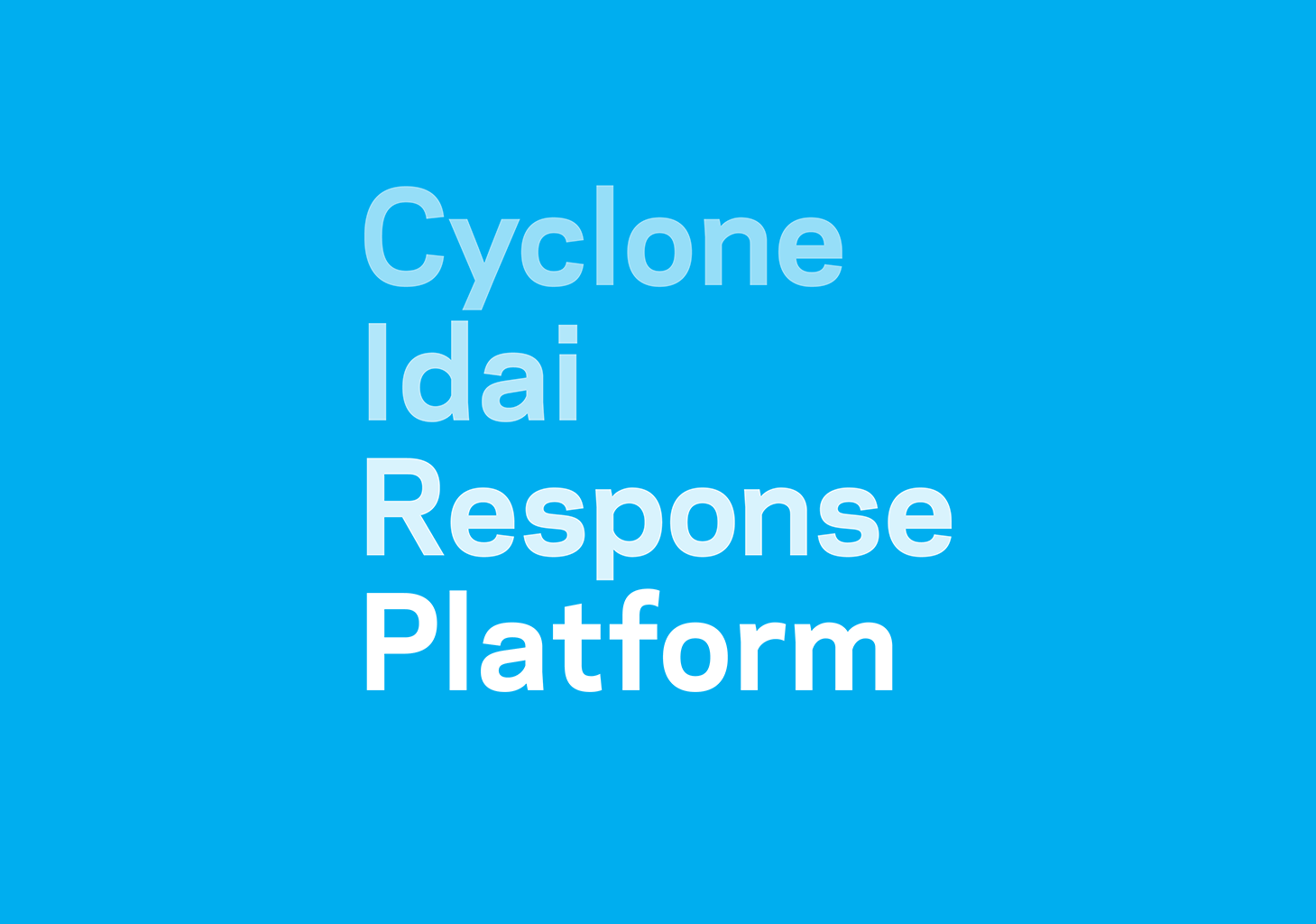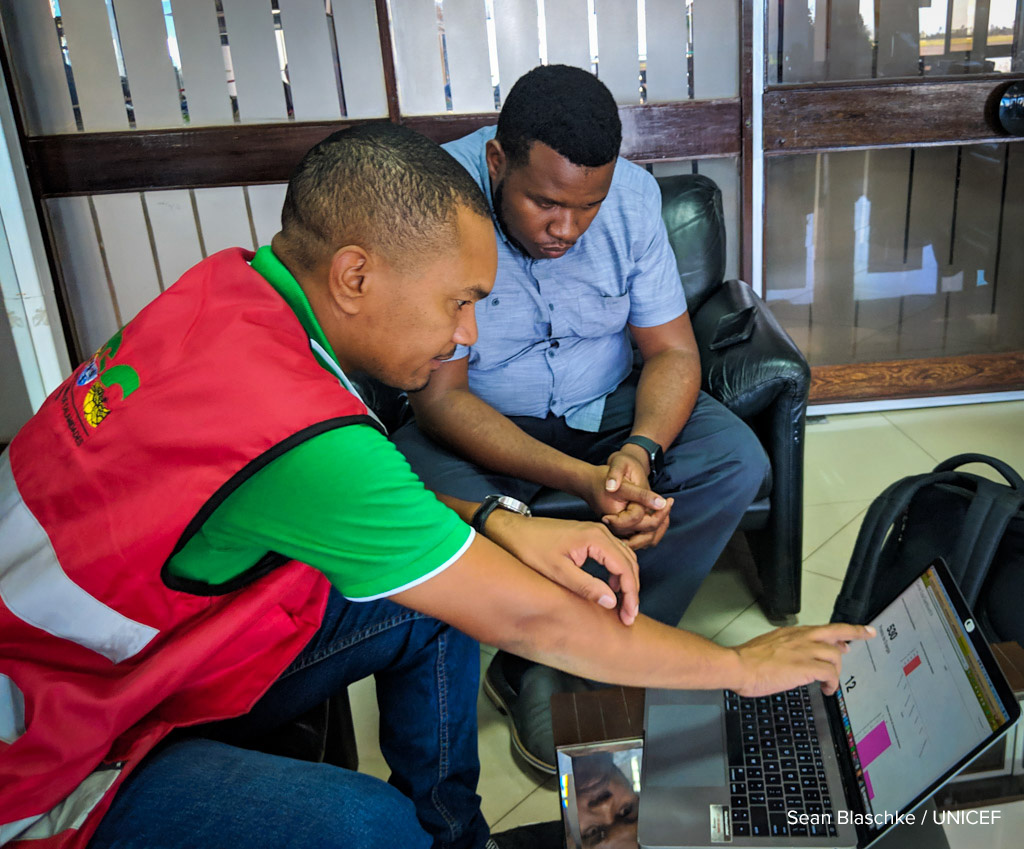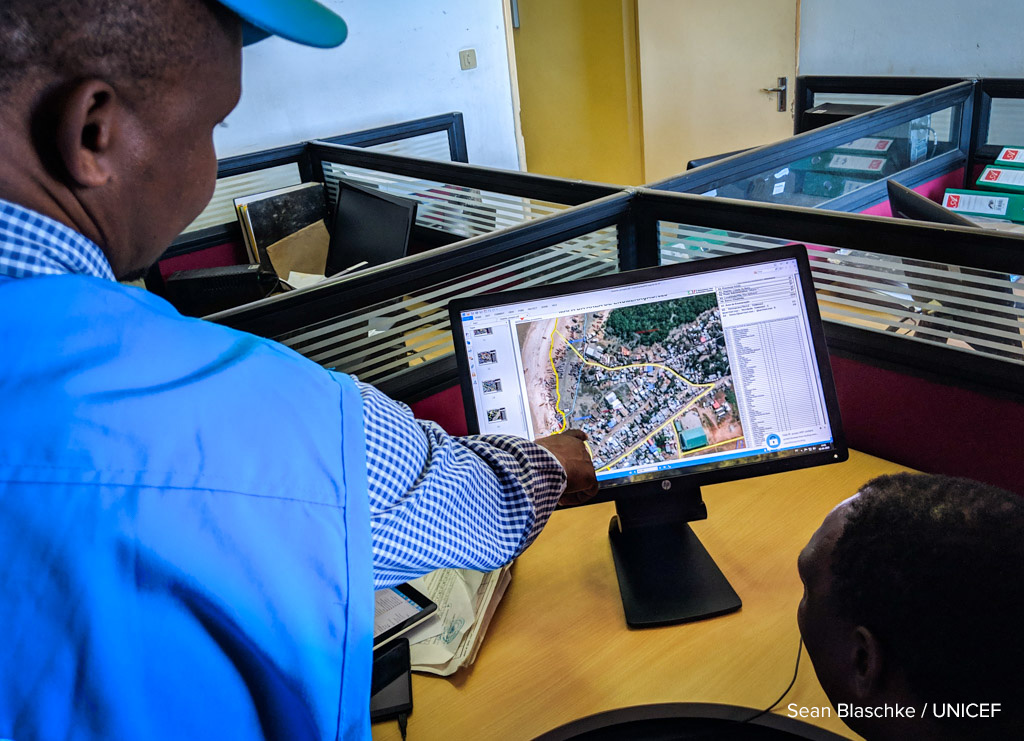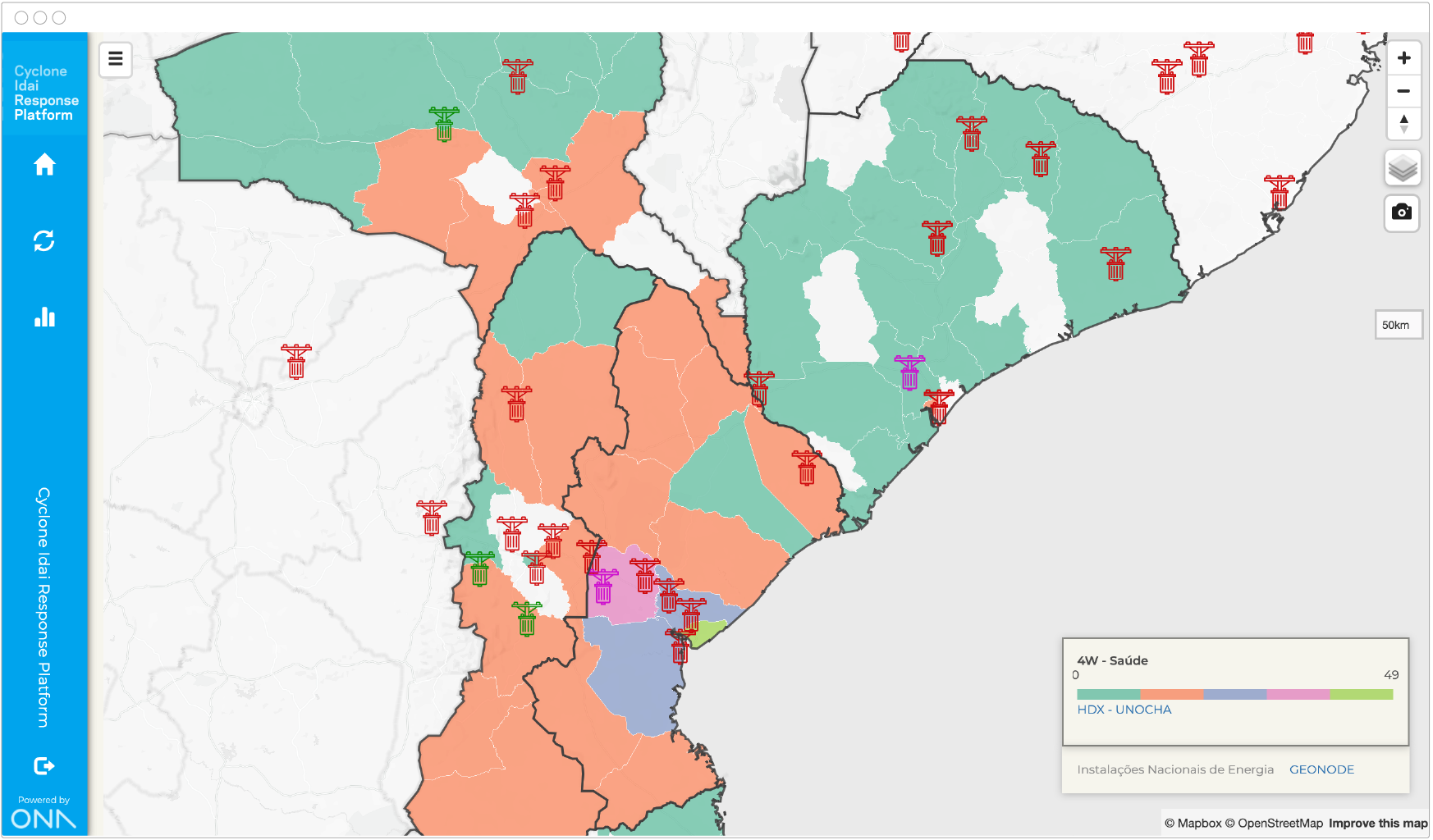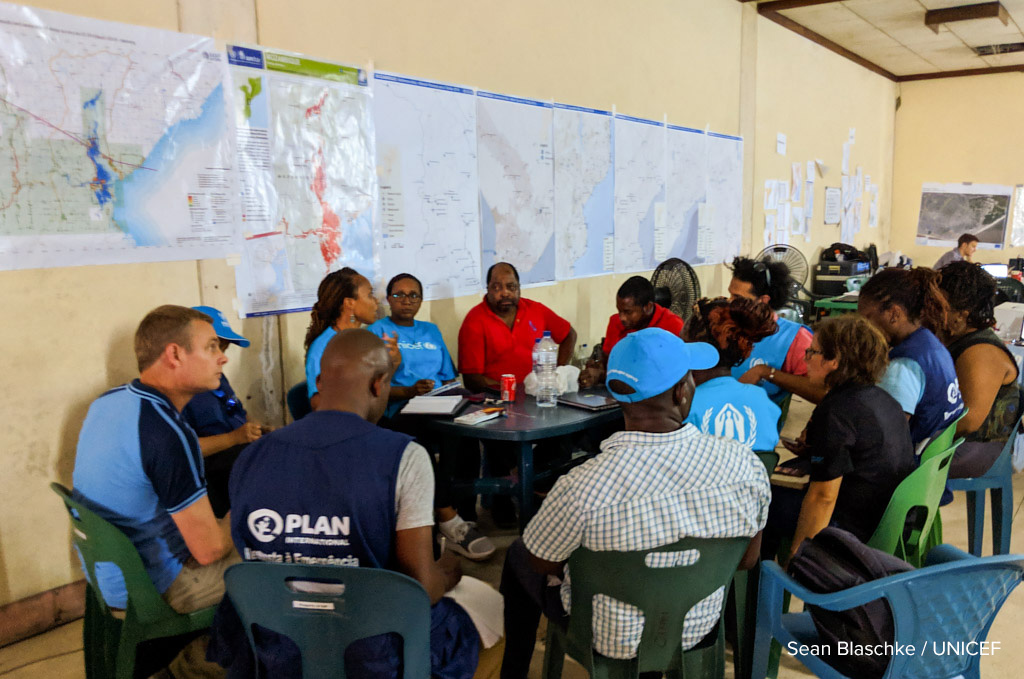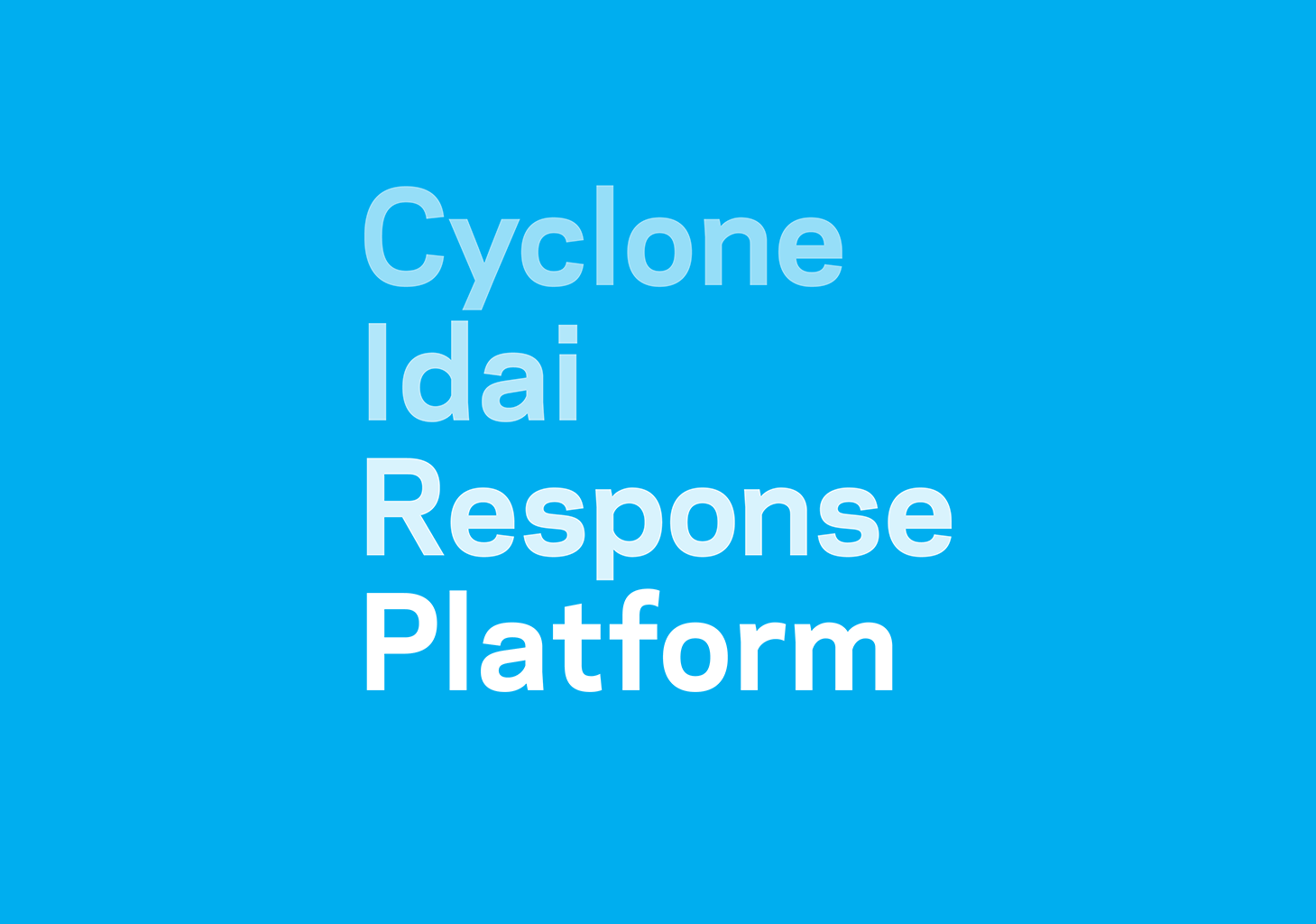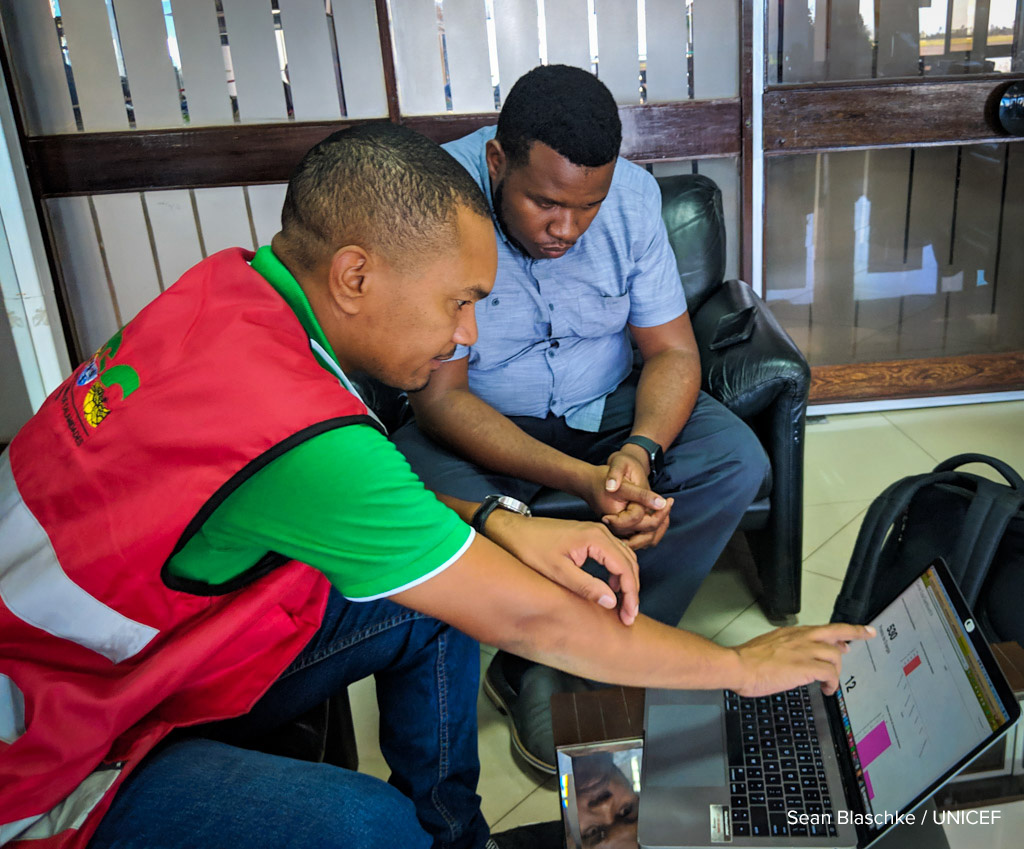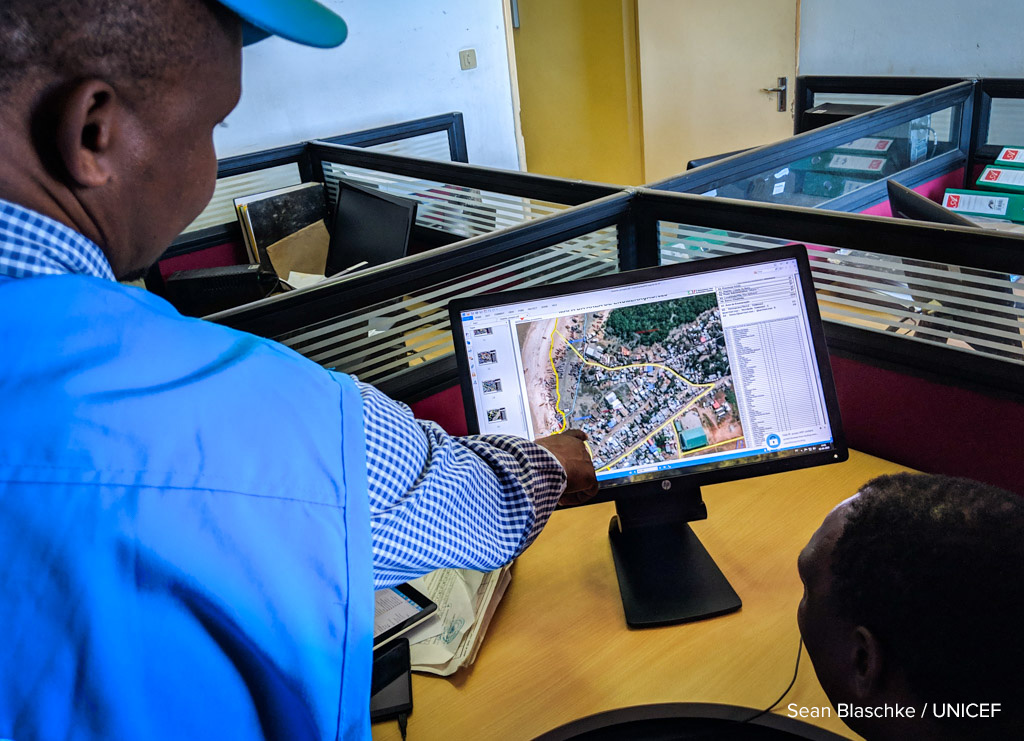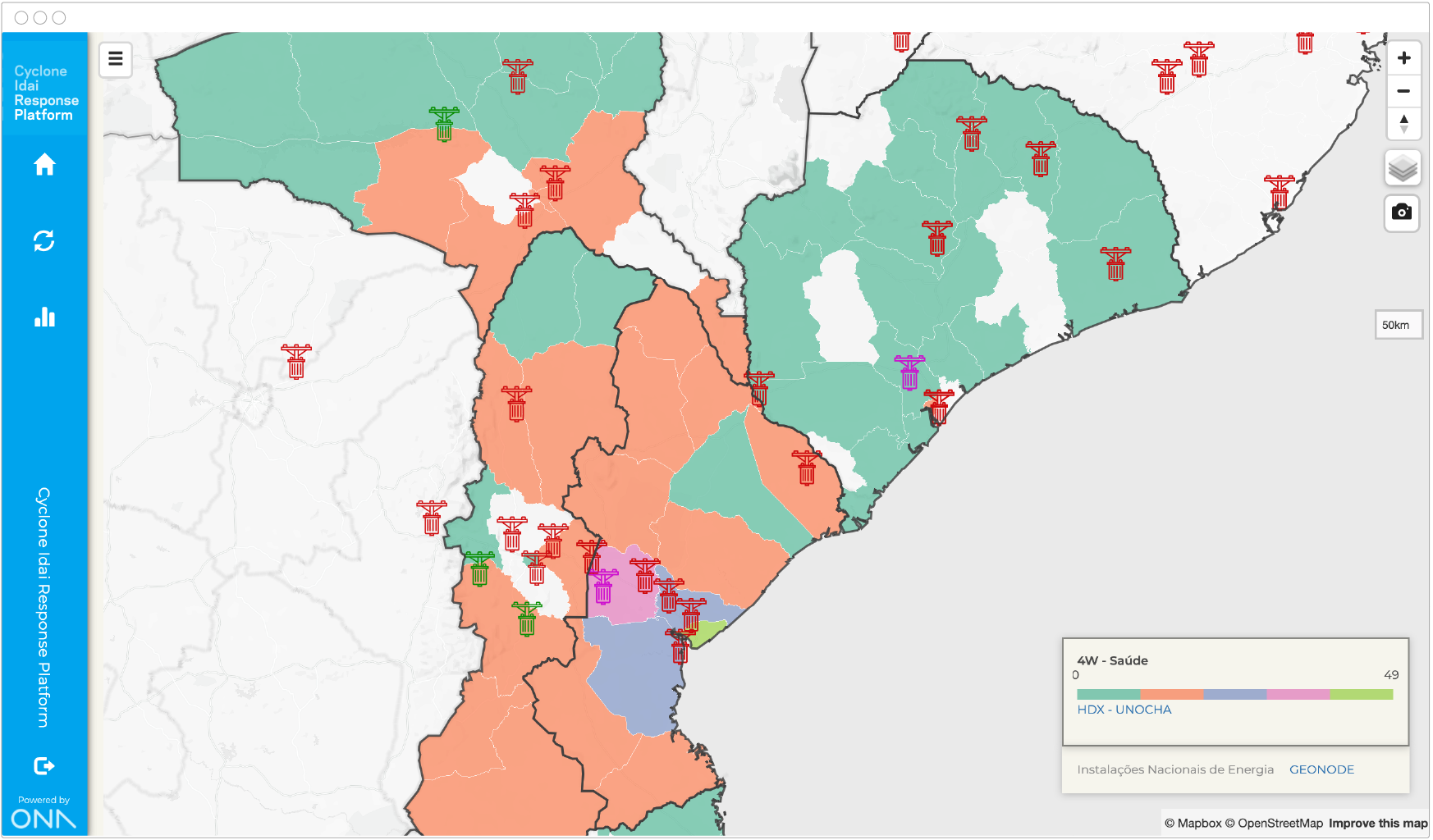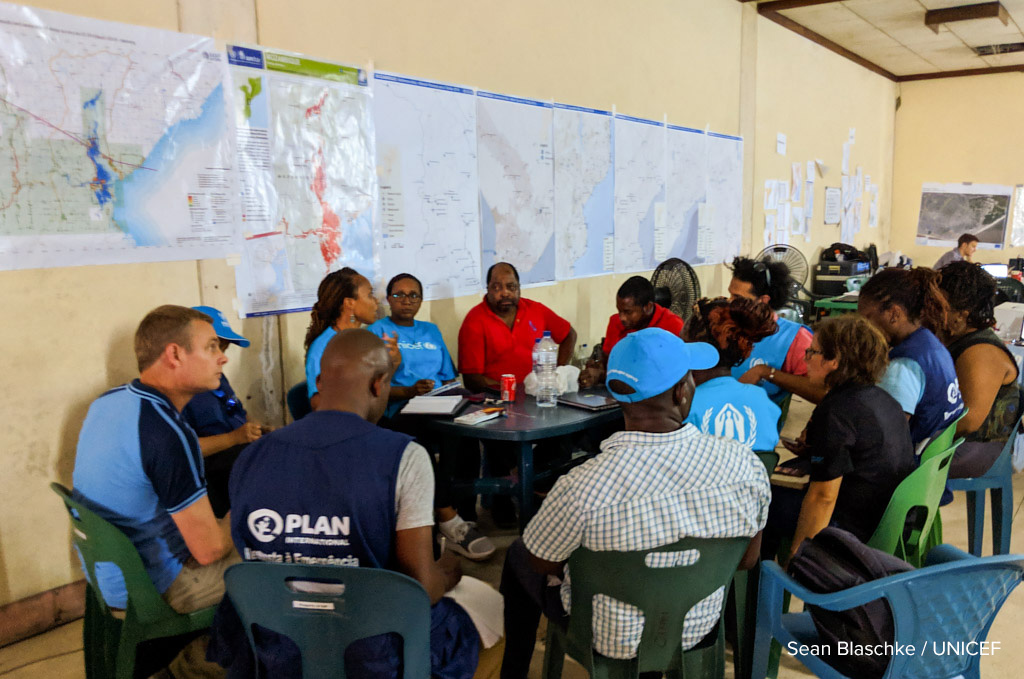 DEVELOPMENT PARTNERS
UNICEF
LOCAL TEHNICAL PARTNERS
REGION
Mozambique, Zimbabwe
SECTORS

Disaster and First Response
PRODUCT
Goal
Aggregate multi-party, cross-region data to better inform local and national response planning capacity after a natural disaster.
Brief
In March 2019, Cyclone Idai hit Southeast Africa. Reportedly one of the deadliest tropical storms to hit the southern hemisphere, the cyclone pummeled Mozambique, Zimbabwe, and Malawi resulting in a humanitarian disaster throughout the region. Devastating winds up to 120kph, along with heavy rains,  flooding, and landslides, left dozens of lives lost, thousands injured and a trail of property destroyed.
The governments of Mozambique, Malawi, and Zimbabwe, and the humanitarian community responded swiftly with Malawi and Zimbabwe declaring a state of emergency in the affected areas and the United Nations categorizing the emergency at Level 3 (L3). The coordinated response resulted in a host of governments, the UN, and other international humanitarian agencies sending emergency response teams to the affected areas.
Disaster relief organizations needed rapid and coherent responses amongst the different players in the region, specifically in the form of access to accurate and real-time data across many response activities. Disaggregated approaches to data collection and visualization created siloed information, which limited data sharing between partners and coordinating agencies, making them unable to cross-analyze information.
Process
Serving as the humanitarian response cluster lead, UNICEF called on Ona to support the National Institute of Disaster Management in Mozambique (INGC) to help the region improve its preparedness for future events.
Stage 1. Establishing On-the-Ground Information Management
Ona sent teams to Mozambique and Zimbabwe to help with on-the-ground planning and coordination, and to better understand the data needs. Within the first few days of the response,  Ona's team established powerful, map-based information management portals that would prove critical in providing data and maps to support emergency response teams in the two countries.
Stage 2. Developing Integrated Solutions for Structural Change
The platforms — The Multi-Agency Cyclone Idai Response Platform, INGC, and the Idai Response Platform in Zimbabwe — were built on Ona's open source mapping and analytics platform called Canopy Analytics.
Stage 3. Coordinating Systems Development and Implementation
Ona collaborated in-country with a multi-agency team to establish key data sources and systematically worked to build these systems. The work involved identifying the systems through which data can be pulled, including through live API connections to existing systems like OCHA's KoBo and Ona Data in real time, connecting to data sets in Google Sheets documents and static datasets uploaded in HDX. Ona's technical team then worked to pull this data into the dashboards and maps and dynamically visualize the information and layers needed.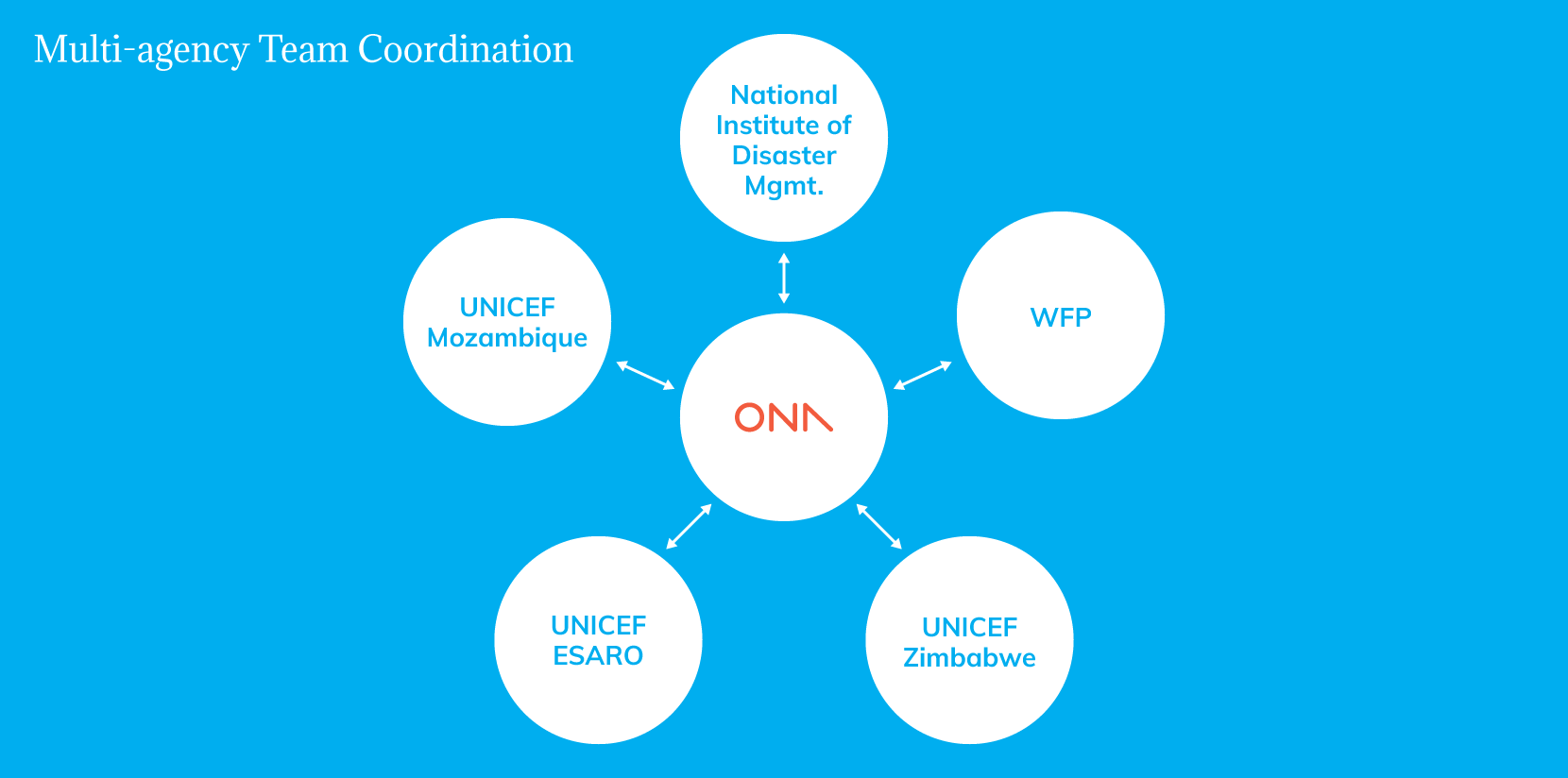 Outcomes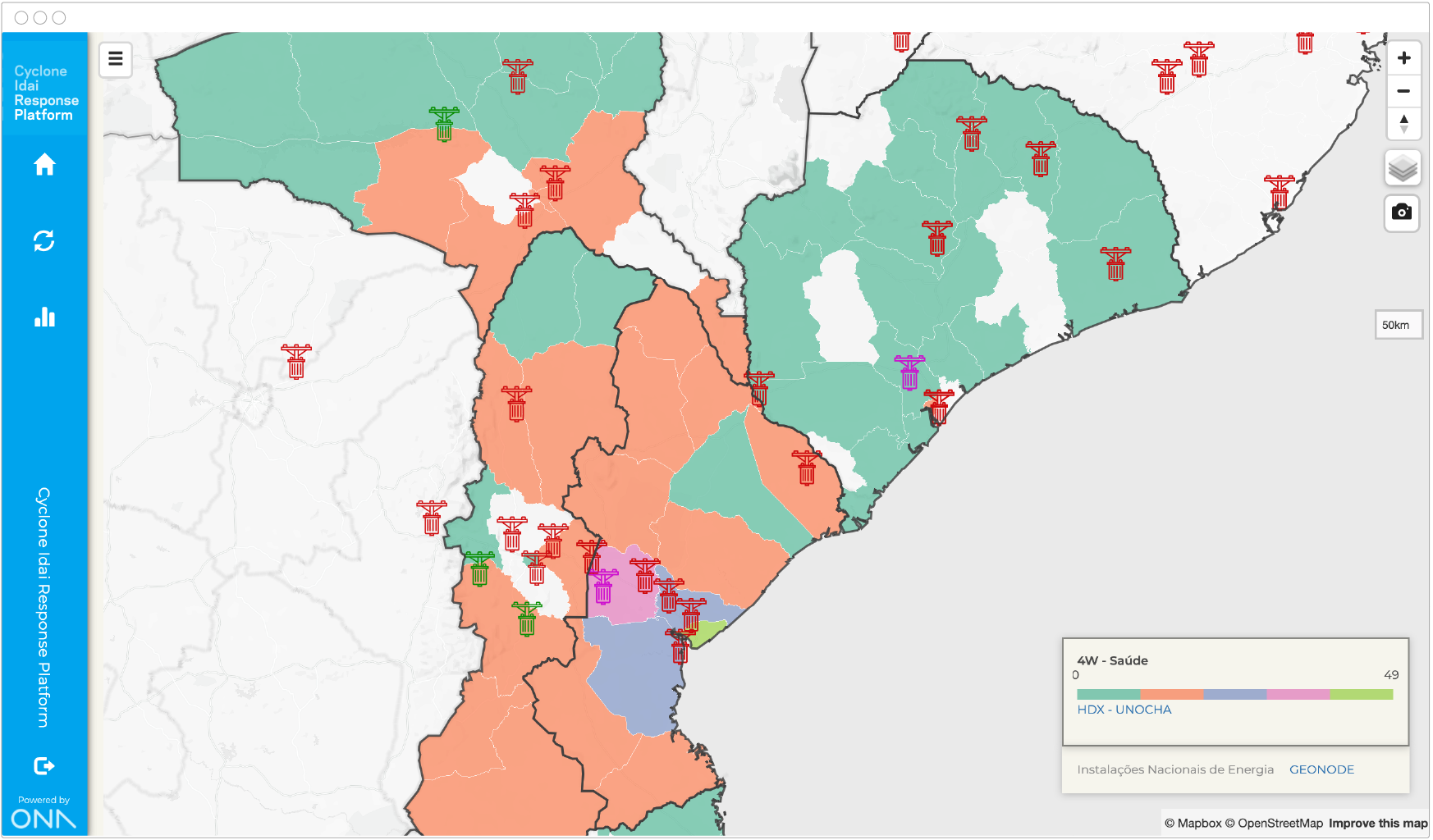 Infrastructure Service Mapping
Using the platform the team was able to map all key infrastructure services, including functional energy posts, water points, and other essential infrastructure, against where the flooding occurred.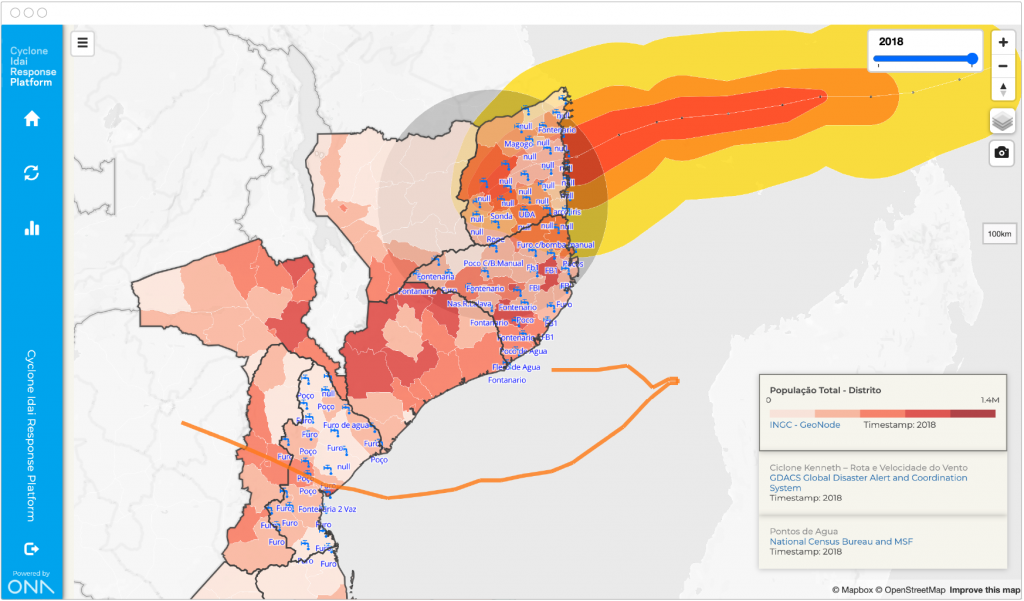 Population Mapping
The team was able to map population census data (gathered from the government) to help emergency response teams assess how many people were affected, and in which areas.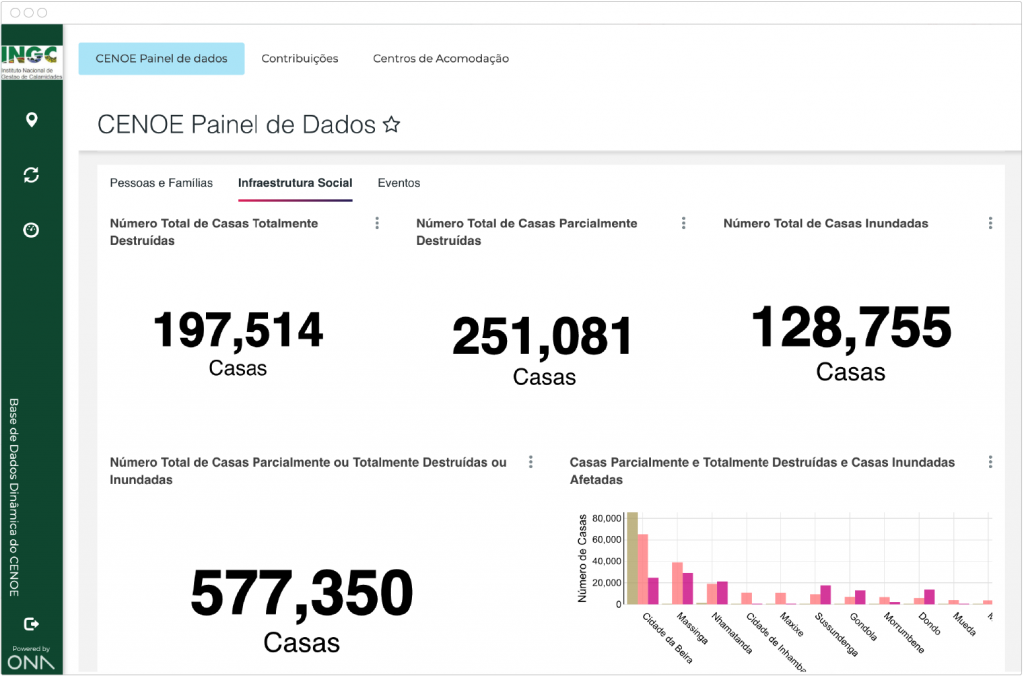 Rapid Assessments
Users of the platform were able to assess current road access conditions (based on WFP data), and visualize data from rapid and aerial assessments (performed by OCHA and ICRC). The teams on the ground were using data pulled from these assessments and from OCHA's Humanitarian Data Exchange through Canopy Analytics and visualized in real-time, easy to use dashboards and maps.
Ona's Rapid Response platform — facilitated by an integrated set of Ona products and services — became the national platform for Cyclone Idai disaster relief.
Impacts
1.6 million people provided with access to safe water
467,000 people provided with access to sanitation
80,000 children receiving psychosocial support and support to unaccompanied and separated children
265,000 provided cash-based assistance