Congratulations to the World Food Programme for winning the Nobel Peace Prize!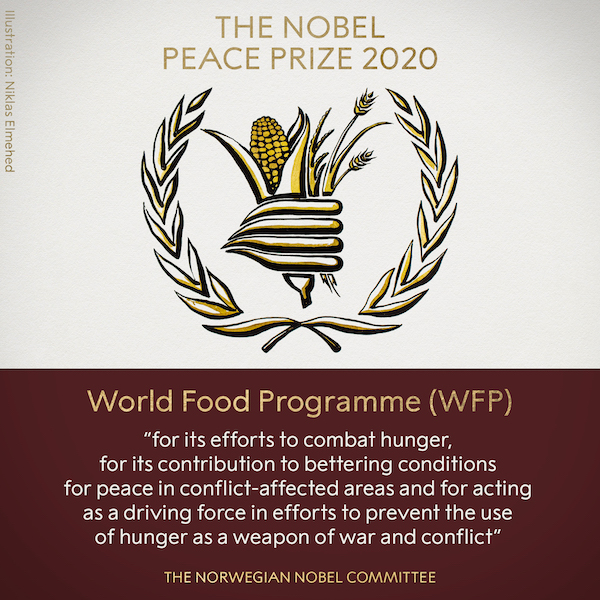 Ona would like to extend our heartfelt congratulations to our partner, the World Food Programme (WFP), for being awarded the Nobel Peace Prize for "combating hunger" and its "contribution to creating peace in conflict-affected areas".
As a long long-term technology partner for WFP, we are honored to be able to help support WFP in it's mission to bring food and assistance to more than 100 million hungry children, women, and men across the world. In this past year, we are particularly proud to have contributed to WFP's rapid response efforts to alleviate hunger in regions with particularly complex environments such as Afghanistan, Ethiopia, South Sudan and Lebanon amongst others. Most recently, following the tragic explosions at Beirut Port, WFP provided emergency in-kind food assistance to 11,000 of the most affected people, through the distribution of 2,226 food parcels to also support communal kitchens serving food to blast affected areas.

In partnership with WFP we've deployed the Mobile Operational Data Acquisition (MoDa) platform, which uses Ona Data and RapidPro to serve as global data collection and management systems. Ona's systems have been seamlessly integrated with other WFP data systems and have helped to facilitate structured data collection and sharing across WFP programs, country, regional, and global offices. These platforms have allowed WFP to consolidate and analyze the data they collect seamlessly. They have also enabled WFP to determine where and when to take action, monitor performance, assess results of their interventions, and make evidence-based decisions.
We are proud to be WFP's partner and and appreciate their trust. Congratulations to WFP on this well deserved honor!