Ona is on a mission:
Yours.
We're technologists who, as individuals and professionals, have always worked on and in and around humanitarian causes. Everywhere we've been, we've seen a clear need for better tools on the frontlines.
We see a lot of organizations in the world doing great and heroic work as best they can, but without one vital thing: great data insights, both on the ground in real time and also in times of reflection, planning, and collaboration. Insights that can strengthen and add crucial dimension to the stories you must tell to so many people—to the ones you help, to your partners in the field, to funders, and to the world.
First responder and care organizations put their most important work in our hands. We help them collect the right, telling, vital data and then extract meaning from what they gather. So they can tell their story better, with the full truth behind the numbers. So others can see what they see, and help them help make the world better, especially where the need is greatest.

Our Story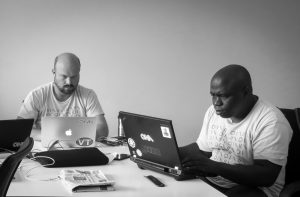 The seeds of Ona began to take shape at Columbia University's Earth Institute, where Matt, Peter, Dickson and Roger first met. While we came from very different backgrounds, our work together in the research lab catalyzed our shared sense of purpose. We were all passionate about creating great software, but more importantly, were all driven to tough challenges. We thought we could put our collective energies together to better address difficult societal problems with technology that could bring visibility to the issues.
Having worked extensively in development and humanitarian work, we saw how the tools developed for groups like frontline health workers and humanitarian agencies were failing people and organizations. Better tools, the result of dedicated investments by world class engineering and design teams, were needed if we wanted to see meaningful change.
Founding Ona in 2013 gave us an opportunity to create better tools for the people doing essential work on the frontlines of health and humanitarian relief efforts. With offices in Kenya and the United States, we remain committed to building equitable access to essential services through data, technology and design. The name speaks to our mission: Ona is seeing. Ona is vision. Ona is action.
Ona's Difference
The first step toward change is seeing. We leverage data, smart technology, exceptional design and a compassionate vision of the world to help activate change where it's needed most urgently.