Empowering Communities Through Data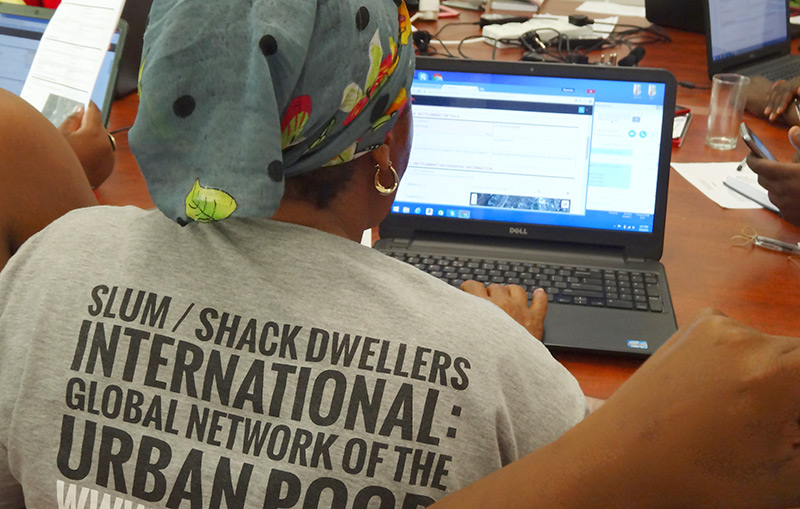 Annie Beukes, Data Manager at Slum/Shack Dwellers International (SDI), recently talked to us about why SDI needs a standardized data tool and how they use data to create an impact.
Ona: What does SDI do and what is your role?
Anni Beukes: June 20th marked the 20th anniversary for Shack / Slum Dwellers International. We are a network of community-based groups from 33 countries across the globe. These community-based groups, supported by affiliate NGOs, come together at the community or national levels to form federations for the urban poor. At SDI, we believe that people are catalysts for development in their own communities. We focus on a bottom-up development process that include savings, empowering women for development, enumeration and mapping, and improving the physical conditions of settlement areas. The organization is run by, and its agenda set by the Council of Federation leaders from the saving groups.
I am based at the SDI Secretariat in Cape Town. I support the federation's data process which includes; support on tool development, data collection, analysis, and management for our settlement profiles, enumeration, and mapping.
How did you decide on partnering with Ona?
In 2012, the council decided to aggregate our settlement profile data into a single, standardized tool and database. This would allow us to use our data, at scale, to support our arguments for tenure security and access to basic services and amenities in slums everywhere. Bill and Melinda Gates Foundation funded the standardisation of our settlement profiling tool. The federations worked in the field to refine the data collection tools and Sante Fe Institute advised and co-developed the technologies with us.
We needed a software developer to develop the globally accessible database platform where the data could be stored, managed, analysed, and shared. We knew what we wanted to do, but had no clue how to do it. We engaged in a two-week marathon, interviewing software developers and companies from around the world. Then we met Ona. Ona was still pretty new at that time, but what struck us about them was that they listened to us. They listened and understood what we wanted to do and have walked with us every step of the way. It takes patience and commitment to design tools that help communities and we found like-minded people at Ona. Everyone was interested in our project, but Ona respected our dream.
Development took 18 months to design the database structure along the federations' collection process and methodology and to plan out the format of questions. In May 2014, we were fully online and could begin linking share-ready data to our knowyourcity.info platfrom.
What kind of impact have you made so far?
The SDI federations collect data, stay evictions, and support security of tenure of slum dweller communities. These activities inform dialogue with local governments and policies for settlement upgrading and housing development. For example, in South Africa, Federation of the Urban and Rural Poor has delivered 13,000 houses to poor families in the past 20 years!
At SDI We believe that when you have data collected by the community it serves, you have changed that community forever — you empower community members to be the catalyst for their own change. Currently, we have over a million slum dwellers saving [money] weekly. We have profiled over 7,000 settlements and these are becoming more and more available in a digitized and standardized format.
"When communities collect their own data, they own the process of their development."
How do you use Ona?
We use everything in Ona. Prior to Ona, data collection was manually done on paper. This brought about a huge problem: sifting through a pile of papers was very tedious. Worse still, papers were often damaged during transportation.
Our enumerators now use ODK Collect for data collection, and all our data is securely stored in one central place, which improves the quality and accessibility of our data. Then there is the dashboard feature, which is one of the reasons we chose Ona. The ability to visualize our data in a map is very important for us. Sometimes we print out a map, and we often export up-to-date data in different formats, immediately from anywhere. We also use filtered data sets and the chart view — this is analysis available in real time, ready to inform on-the-ground decisions as our federations engage local governments.
We like the software's simplicity. We have had users, like some people at ACTogether Uganda, who have never used a computer before. When I showed them how to move data points, they grasped it immediately. They were so excited they published an article about it. We didn't have to go through an intense training with them. They started calling it "my Ona". Janet Abdu, president of a federation in Ghana, even checks in on her federation from her cell phone. It has really simplified her life.