Make Your Forms Multilingual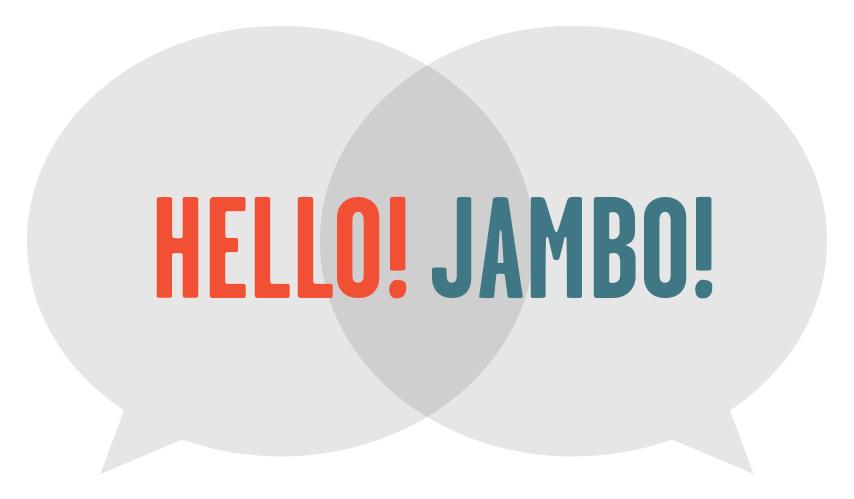 Did you know you can develop an Ona survey that can be read in multiple languages? It is increasingly common for researchers to capture feedback from different regions with a diversity of languages. Since comprehending survey questions is a pivotal need for high quality responses, we recommend building surveys in the local language of enumerators and respondents. Whether you need a survey in English, Swahili, and French — or all three — you can easily create a multilingual survey while authoring your XLSForm.
For our work on OpenSRP, this feature is helpful not only for local language surveys, but also for collaborating on data analysis. Below, you can see a woman registration form in English and Bengali.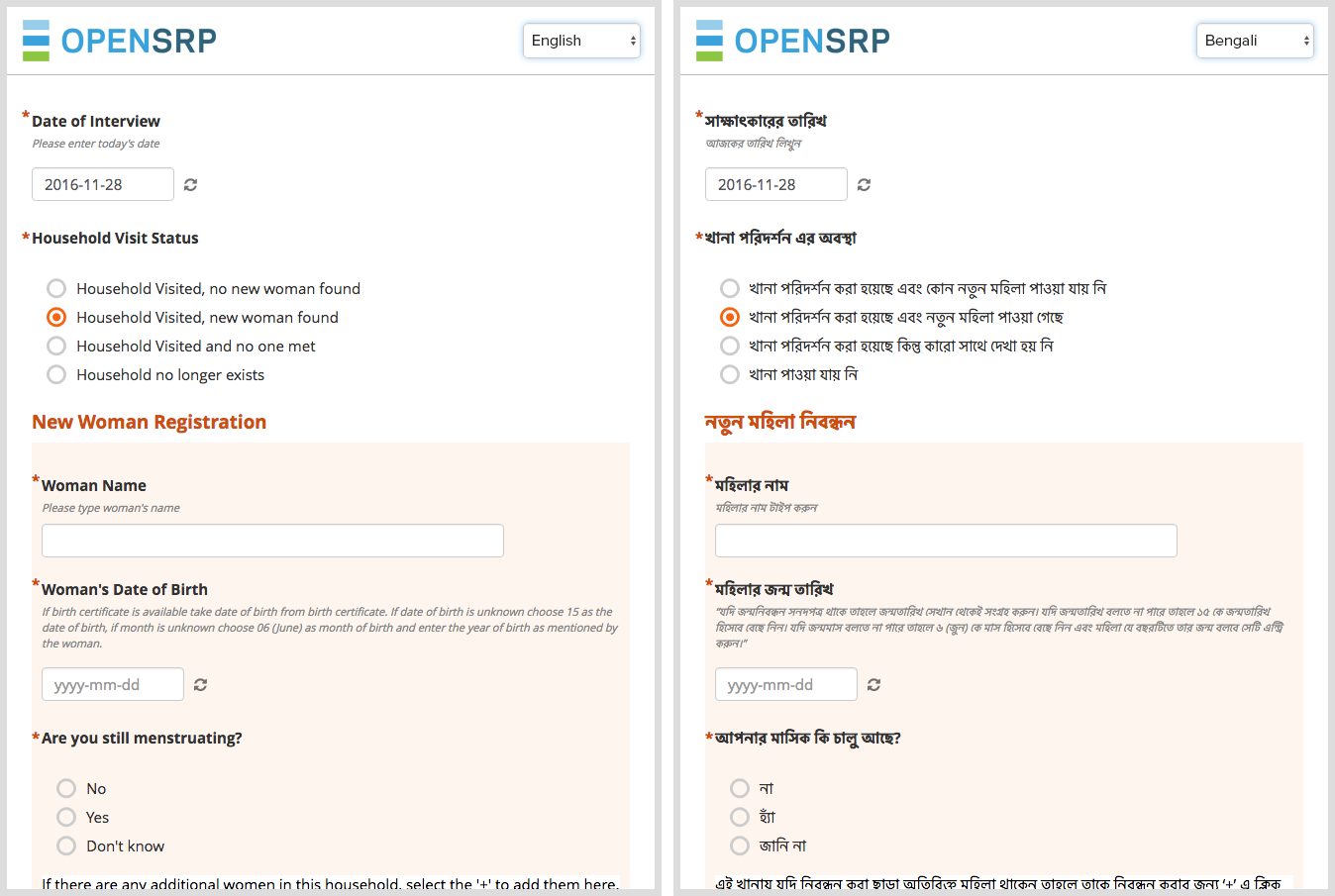 Authoring an XLSForm with multiple languages
Suppose you want to carry out a survey in East Africa where English, Swahili, and French are the common languages (depending on the country you are in), and you want to ensure all interviewees are able to understand and answer the questions. To do this, add additional language translations to the XLSForm by appending ::language_name to new columns in the survey and choices worksheets. You can also do the same for labels, hints, constraint messages, and media files. Take a look at this sample multilingual XLSForm with English, French, and Swahili, and its companion Enketo webform.
Selecting a language when using Enketo webforms and ODK Collect
In an Enketo webform, there's a dropdown menu at the top right that gives you the option to toggle between the different languages.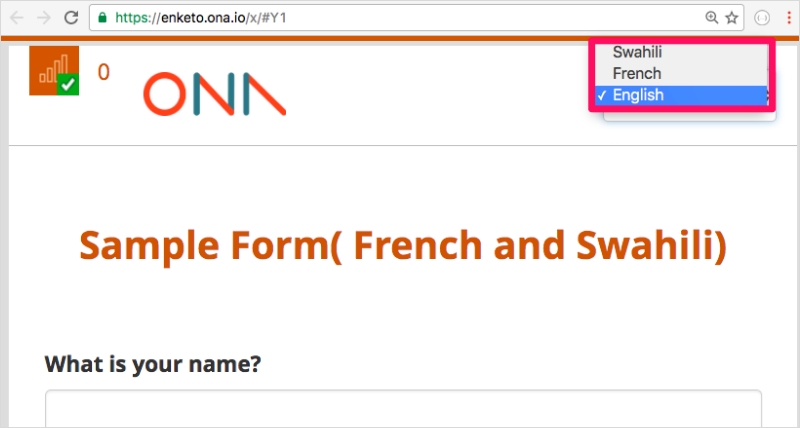 Similarly, in ODK Collect, the language selector is accessible in the top right menu.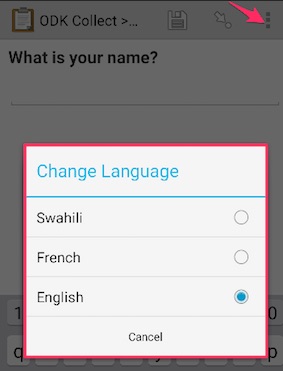 Analyzing data from your multilingual survey
The best reason to use one form with multiple languages rather than unique single-language forms is all the data is stored together. This means you don't have to spend time combining and normalizing datasets. Additionally, data can be analyzed on Ona's platform as soon as it is submitted.
You can select the language you want to view data in on Ona's tables, charts, and dashboards. The dropdown to select a language is located above the data visualization: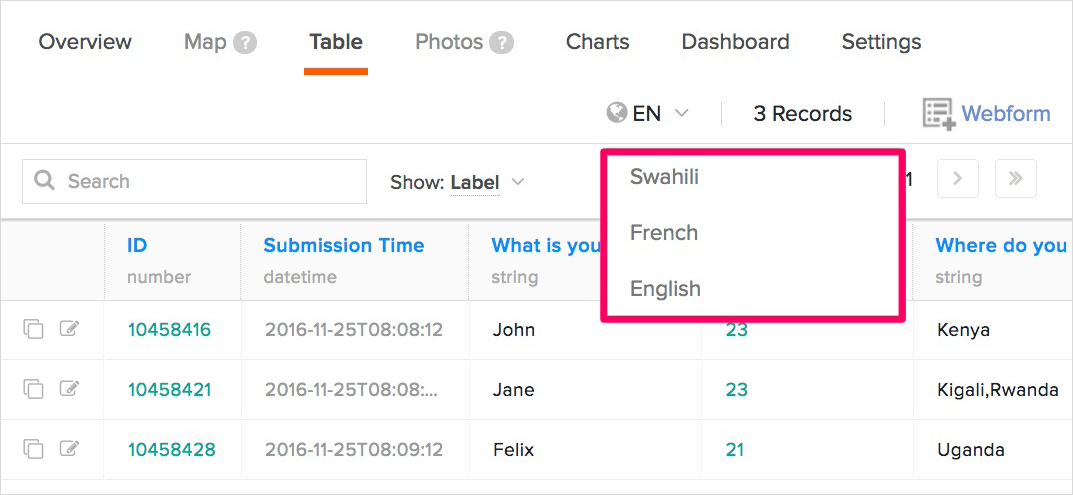 If you're interested in making your forms multilingual, follow the step-by-step guide to adding multiple languages to a form on our help site.
Advice from Ona's team
Always remember, the quality of the results using translated forms is related to the quality of the translations.
When translating survey questions, consider how culture affects language. Translations could distort the meaning of the questions. So you should pilot test with users before data collection.
The quality of translations can be tested by having translations done by a native speaker then back-translated into the researcher's native language. This will ensure the questions have the correct meaning and are collecting the desired information.