My Summer Experience at Ona
Mekdim Ashebo is a junior at Harvard University who joined Ona as a software engineering intern. In this interview, Mek tells us about his experience at Ona, his projects and what he enjoyed about Nairobi.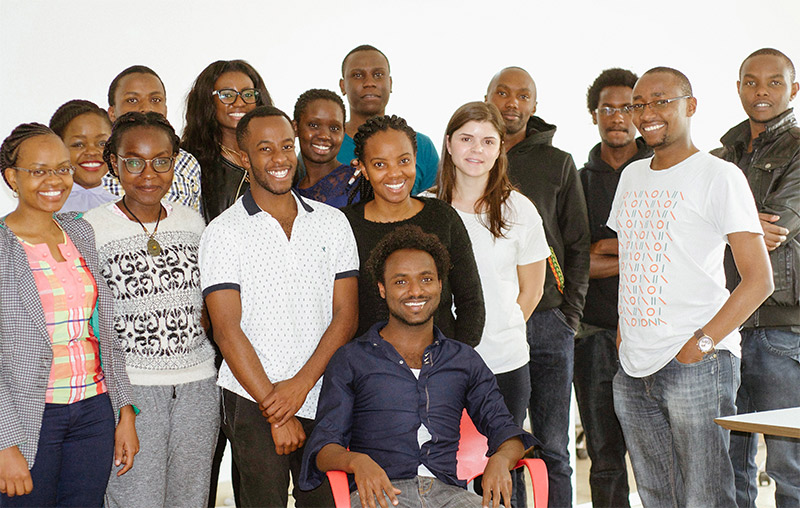 Mek sits at the center of attention on his last day.
What projects were you involved in at Ona?
The core project I was involved in was one on tracking early child development. I assisted in the design of an enumerator bot that could make it easier for health workers to track the development of children under 5 years. With leading technology companies taking the route towards artificial intelligence, it comes as no surprise that Ona is following suit. The bot, called Sofia, interacts with mothers/caregivers via Facebook Messenger or Telegram to collect data about their children. She does this by asking the mother several questions about her child's health like, the child's ability to walk on their own or their ability to say certain words. The project is currently being piloted in Indonesia.
I also participated in some tasks for OpenSRP and RapidPro.
What was your experience at Ona like?
My first day walking into Ona's office was to me like walking into an office in Silicon Valley. It was exciting to see people sitting around a big table each working on their own projects rather than sitting in separate offices. The Ona team was very welcoming and helpful till my last day.
Thanks to Ona, I got the real sense of what it takes to build software that has potential to transform lives. The passion the team at Ona put in to their work to deliver a reliable platform that is used by social change makers across the globe is admirable. I'm really lucky to have spent my summer vacation interning at Ona.
I also got to know how to use GitHub to collaborate on code, hold open discussions with colleagues, make use of API calls and different data formats. I also learnt about several new syntaxes and how to make effective use of online sites like Stack Overflow and other debugging tools.
What did you find interesting about Nairobi?
At the airport, I was very surprised to see the driver on the right hand side, I thought this only happened in Britain! From my general observation the people of Nairobi are culturally open minded. They tend to embrace western culture compared to my home in Ethioipia, you can tell from the music played in matatus or from how journalists read the news.
What advice would you give to someone new to Kenya?
One: Try out nyama choma, masala chips and chapati, they were my favorite Kenyan meals. Two: Use matatus as a means of transport, you'll see more of the city this way. Three: Learn a few common swahili phrases, they're useful when negotiating taxi fares.