Providing emergency cash transfers to 30,000 vulnerable households in Zimbabwe
The Emergency Social Cash Transfer (ESCT) programme, led by UNICEF Zimbabwe, aims to provide physical cash to vulnerable populations. In 2020, Ona was engaged to design and maintain the Management Information System (MIS) to drive the program from end to end.
Zimbabwe's economy has been in recession for years due to droughts and other climatic shocks, a trend that's been exacerbated by the COVID-19 pandemic. An increasing number of families and children live below the poverty line while the current social protection system is not able to effectively react to these shocks. The solution UNICEF Zimbabwe came up with is refreshingly simple: give money to those that need it most.
ESCT programme implementation in the field. Images courtesy of UNICEF Zimbabwe
Though straightforward, administering the delivery of physical cash to worthy beneficiaries is a challenge that requires coordination between several parties, from the on-the-ground NGO that interacts with households to payment providers and program managers. Ona needed to build an MIS that incorporated information from all of these stakeholders, combined it, and applied the relevant business logic at each step.
Building a scalable system to manage a fair process
To manage ESCT, Ona developed a custom combination of Ona-supported tools like Ona Data, RapidPro, and Canopy data support services, creating a reliable and extensive platform to administer core functionality. The cash transfer MIS technology architecture includes registration, selection, payment, grievance, monitoring, and reporting.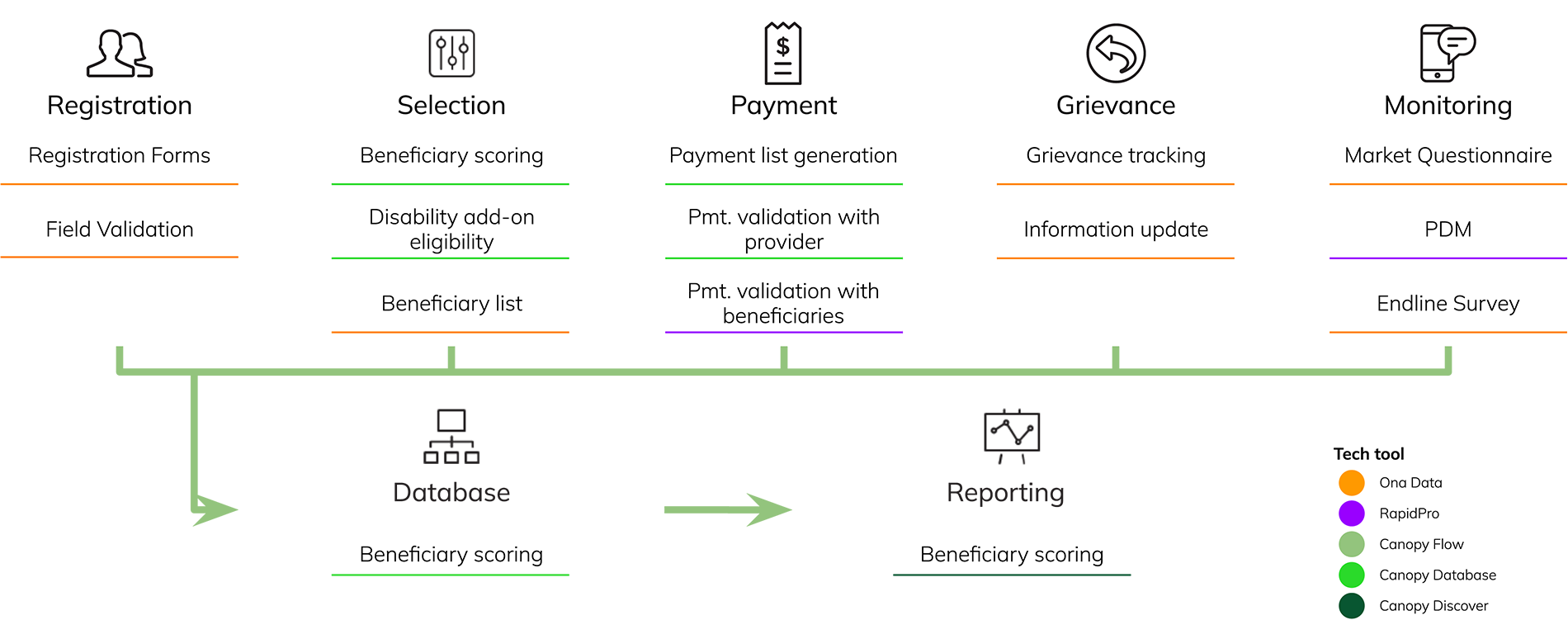 Registration
Prospective beneficiaries are registered via ODK questionnaires, with program officers interviewing each household in the target areas to gather their demographic and economic distress information.
Selection
We implemented a custom scoring algorithm where each household receives an eligibility score based on their survey responses, ensuring that only the most vulnerable households are selected for the program. After the initial selection, program management can alter the beneficiary list and make ad-hoc adjustments as the program progresses.
Payment
Different beneficiaries are entitled to different amounts monthly based on criteria such as household size and presence of persons with disability. The system generates a payment schedule on a monthly basis which is shared with the payment provider for distribution of physical cash. Since not every beneficiary is able to collect every month, we receive regular updates from the payment provider and report on the amounts actually disbursed, keeping a real-time accounting of the remaining entitlement for each beneficiary.
Grievance
A light-touch case-management tool enabling staff on the ground to collect grievances from the local communities and provide follow up responses.
Monitoring
A suite of additional forms and other surveys to gather information that provide further context to the program and its effect on the vulnerable population, including a baseline assessment of a sample of the population and a regular market questionnaire monitoring any inflationary effects of the program in the local market.
Reporting
Customized dashboards and other tools to share insights and empower program managers and implementers to understand how the program is progressing and act upon the relevant insights. The information generated by the various components is managed in a central database which offers a single source-of-truth for the entire ESCT program.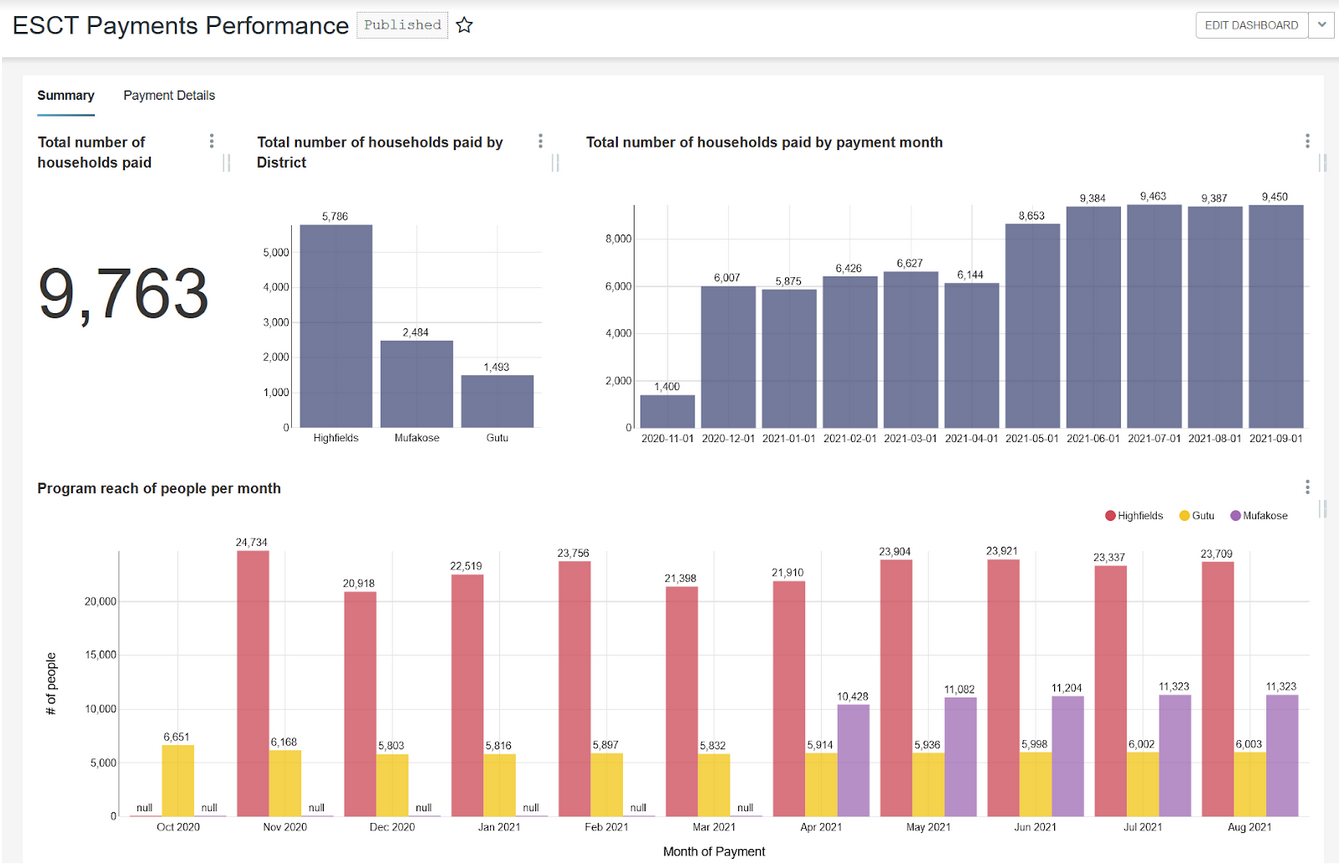 Sample dashboard highlighting program reach by month
ICT4D kaizen
The program is complex and evolving, so it is important to be able to adapt to changing requirements and adjust workflows or respond to unexpected errors. We agreed with the UNICEF team that the best way to provide this level of custom support was to be embedded directly in the program and work closely with the program management for the entire duration of the initiative.
The system components are maintained and refined based on previous learning and new reporting requirements. Working in close collaboration leverages the knowledge and experience of our consultants and structures the relationship between Ona and UNICEF as a partnership for agile problem solving instead of an old-school waterfall-based delivery of software. This has resulted in a rewarding experience that makes outputs relevant and useful.
Where to go from here
The ESCT programme started in November 2020 and is currently supporting 9,700 households across the three districts of Gutu, Highfields and Mufakose. Given the success of the existing initiative, UNICEF and the government of Zimbabwe are scaling its reach to five additional districts and 18,000+ beneficiaries, while providing an additional six months of continuity support to the households under the current phase. This means that the program will grow 3x in size and help 30,000 households.
We look forward to continuing the experience and working together with the entire project team to advance in our mission. At Ona we provide technology and expertise for teams on the ground to deliver the most essential services and expand the impact of their work. It is particularly rewarding to see how we can help complex programs get started and ramp up over time in some of the most challenging environments. If you happen to be managing a similar program and you're interested in finding out more about how Ona can help, feel free to reach out.