3 ways to get the most out of the new RapidPro + Ona integration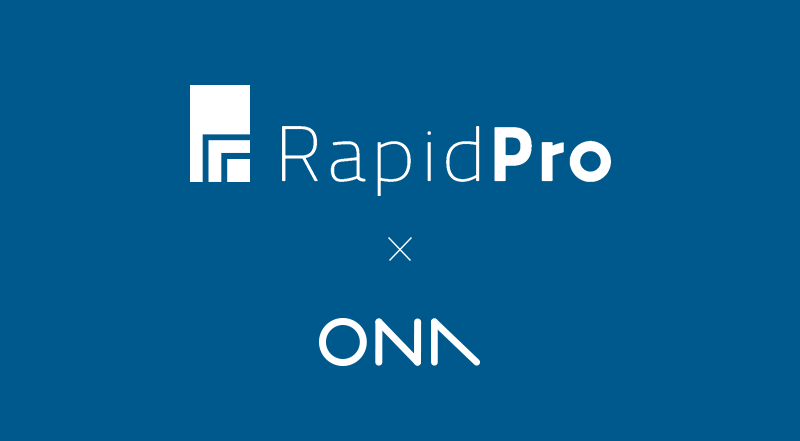 We are thrilled to announce that we added a RapidPro integration to Ona Apps. RapidPro is an open source messaging platform that provides a way to visually build interactive messaging flows (SMS, IVR, Telegram, Facebook Messenger) using its intuitive drag and drop interface. This integration means you can connect a form in your Ona account to a flow in RapidPro and all of your incoming form submissions will automatically be pushed to that flow.
By integrating with RapidPro, we are unlocking tremendous new possibilities. Below are 3 things you can do now to get the most out of this integration.
1. Trigger SMS or email alerts from a form submission
You can automatically push form submissions from your forms in Ona to RapidPro or TextIt, which you can use to trigger SMS and email alerts. Even better, you add logic in your RapidPro flow to evaluate submission data to determine whether to send a SMS or email.
Our team has built alerts to keep track of Ona Impact Grant applications. To do this, we connected our grant application form to a RapidPro flow that emails our team whenever we receive a new application.
Triggered alerts are also providing a great way to actively monitor and respond to data as it comes from the field. Earlier this year, we worked with the World Bank in Vietnam to support a national level WaSH program. Using an earlier version of this integration, World Bank's field monitoring teams were notified by email whenever signs of open defecation were discovered. Teams were able to quickly respond in the affected communities, installing improved latrines to help reduce this practice from occuring.
The following is an example of the flow we used in the WaSH program. The flow checked submission data and if open_defecation=true, an alert was sent.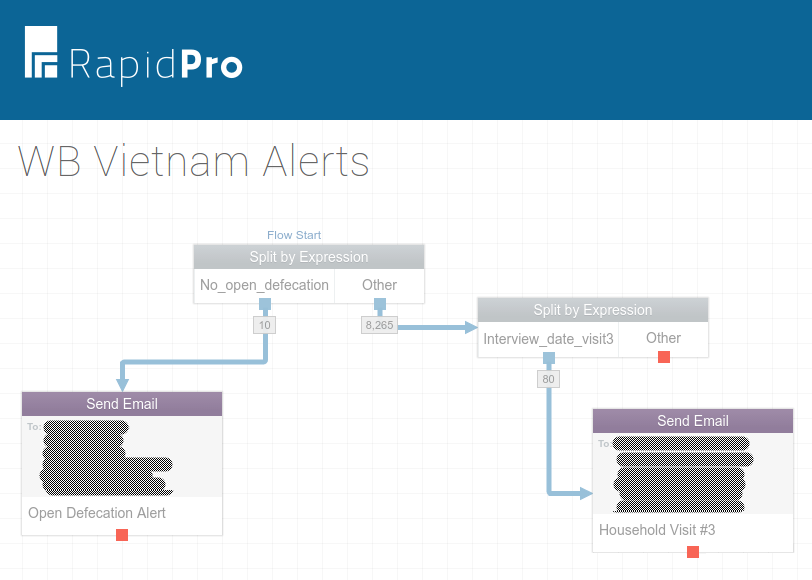 2. Automatically register and follow-up on cases
One of the actions RapidPro supports is registering contacts in a flow. This makes it possible to do follow-up SMS polls, send thank you notes, or send reminders to your contacts — the options are endless. This integration is currently being used for registration in a public health project to track early child vaccinations. Case details, such as a child's date of birth and current vaccines given, are collected in Ona and pushed to RapidPro where they are automatically registered as a contact.
3. Manage follow-ups with SMS reminders
RapidPro can provide powerful support for campaigns and reminders. You can schedule a reminder to be triggered after a certain period of time after a data entry. We can see this being used to create a simple pregnancy registration app where Ona submissions remind new mothers of ANC visits and other health related responsibilities.
RapidPro is currently available in our paid plans. Please contact sales@ona.io if you would wish to upgrade your account. We also offer a range of RapidPro related services, from hosting to bot creation. Just email biz@ona.io — we would be happy to discuss the possibilities with you.