Improving nutritional outcomes for children in Zimbabwe with better data
The humanitarian situation in Zimbabwe is dire with over 1.1 million children and women in need of nutrition assistance due to widespread economic shocks and natural disasters, including a devastating drought in 2018/2019 and Cyclone Idai in March 2019.
Among children under 5 years of age, a staggering 3.6 percent of the child population is acutely malnourished while also being afflicted with preventable diseases despite low-cost interventions like Vitamin A, micronutrient powders, and immunizations.
To rapidly tackle the most critical needs and target the most affected areas, UNICEF Zimbabwe and the Zimbabwe Ministry of Health engaged Ona to build an SMS-driven data collection platform that visualizes the nutritional status of children and nutrition-related interventions across the country in real-time.
Hello Mwana
During the development of this project, we used "Hello Mwana" as the internal project name, which in Shona means "hello child". This reinforced for us a key aspect of the system: focusing on impacted children and sourcing information from as close to them as possible.
In the field, this intervention relies on health facility workers and volunteer health workers who send up-to-the-minute reports via SMS. The SMS reports include data related to acute malnutrition at health facility level, ready-to-use therapeutic food (RUTF) stock numbers, and malnutrition interventions. These values are combined with global acute malnutrition prevalence and reporting participation data, then aggregated and visualized on a web dashboard that highlights key indicators and allows deep dives.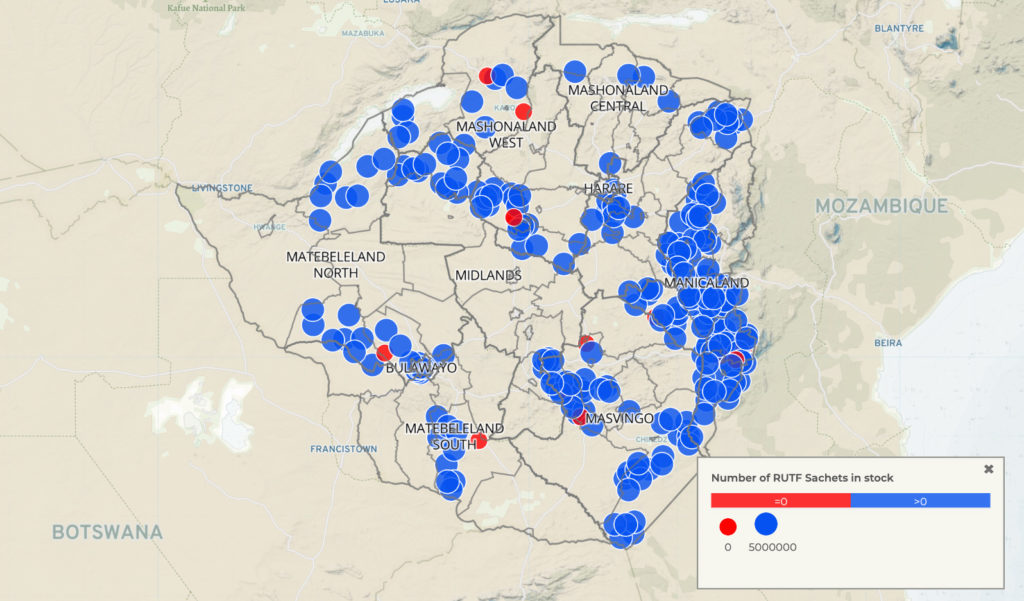 RUTF stock (red denotes a stockout)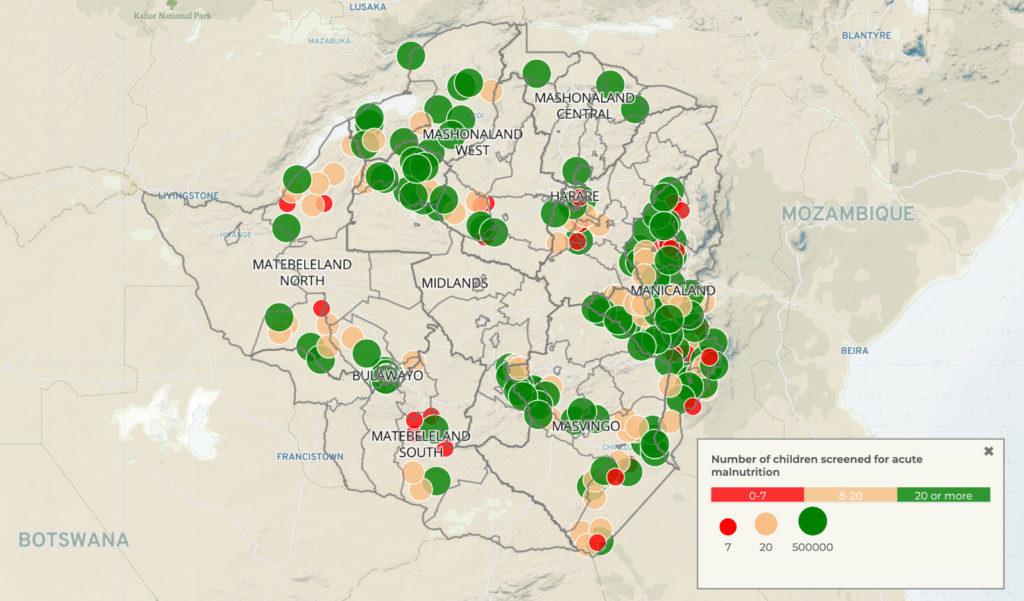 Number of children screened for acute malnutrition (green denotes high screening rates, an early indicator of increased malnourishment rates).
The Hello Mwana dashboard supports decision making with a short turnaround, which is vital in saving lives due to rapidly changing nutrition needs. Scenarios the team responds to include:
RUTF stock is not adequate and should be replenished.

Malnutrition screening of children is low, and follow up is required to determine how to improve the number of children screened.

Prevention interventions, like Vitamin A, micronutrient powders, etc., are low, and follow up is required to determine how to improve the number of people receiving preventative interventions.
Our solution
We built the Hello Mwana solution using Ona's products and existing open-source tools to ensure reliability and long-term maintainability.

1. Register health workers on Ona Data.
Using Ona Data, UNICEF creates SMS data reporters by submitting forms with health workers' identifying information, phone numbers, health facility locations, and GPS locations.
2. Receive SMS reports through RapidPro.
We configured RapidPro, an open-source SMS tool, to receive data from reporters, including nutritional status of children, referrals and admissions for acute and severe malnutrition, use of preventive interventions, and nutritional treatment supplies.
3. Validate data on Ona Data.
RapidPro forwards the reports to Ona Data, where it is manually validated, then pushed to Canopy.
4. Visualize data for analysis using Canopy
The Canopy dashboard shows how screenings, malnutrition admittance, and preventative interventions compare to expected targets. It also allows users to explore data by trends over time, by gender, or by area on the map, and includes charts and maps at both health facility and community levels to provide insights at different levels of community care.
Malnutrition made visible
Timely data and decision making is transforming Zimbabwe's ability to act quickly to minimize the effects of, and even prevent, insufficient screening and supplies. We are excited by the impact of this solution to identify malnourished children through screenings and referrals, ensure adequate RUTF stock for treating malnourished children, and ensure preventive interventions have adequate uptake. Oftentimes, the difference between success and failure is an ability to see what's going on, and in this way, Hello Mwana is a step towards preventing and reducing the consequences of malnutrition.